Here some of what happen last week HackJam.
Air-Conditioner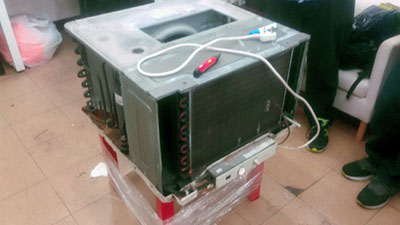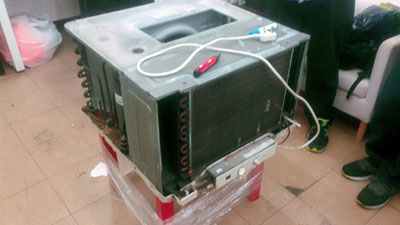 Last week after a brain storming with few people on the basics of how an Air-Conditioner unit should work, we, this week, put the Air Conditioner down to check what was the cause of the problem. We determine that the current was not reaching the unique motor that makes the 2 fans turn. From there are 2 possibilities: either the start capacitor of the motor is dead or the motor is dead. For the next HackJam we will look for a replacement for the start capacitor (less than 100HKD) and move forward depending on the result.
Air Compressor
Water heater used to discharge the start capacitor in order to avoid electrocution
Back Fan pushing the hot air out
Tape the opening left by the missing Air-Conditioner to avoid hot air and rain coming in
Front Turbine pushing the cold air in the room
Computers
The MSI computer that was fixed last week, but did not want to boot up this week due to a dying power supply. We will get a new one and install Gnome Ubuntu on it next week
A second unit was found under the white middle table. The unit requires a deep cleaning as we could remove Kgs of dust from the box. The PC starts. With a new HDD (the current HDD and its data will be kept intact in case its previous owner want to have them back). We will install Kubuntu on it next week.
Next Weeks Tasks
25th August
Finishing up on the 2 computers
Continuing on the Broken Air-Conditioner
1st September
Start on the use of the Solar Panel to charge battery(s) to give visitors and members a free energy source to recharge their mobile devices