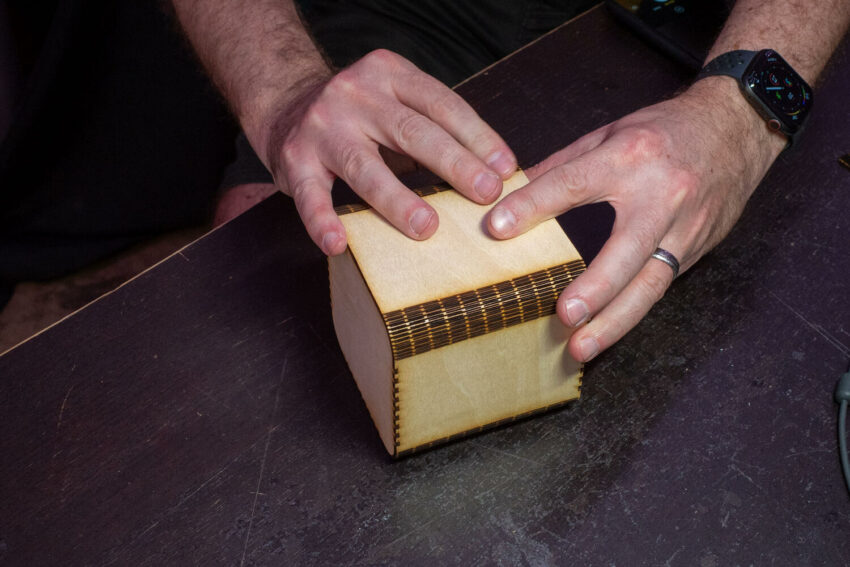 Update on the 20th of March 2021
Four people showed up. It was great fun! Special thanks go to Nico for the link to the box generator: https://www.festi.info/boxes.py
We cut one of the boxes into plywood, then added the name of Andrew's son and a photo of the two, processed with Gimp's newsprint filter.
.
About
Learn what you can do with a CO2 laser cutter. No prior knowledge required!
If you like, you can bring your own design and your own material, but note: The machine is not the fastest, so we probably cannot cut all designs. Materials that work well include cardboard, acrylic, and wood. The exception is plywood laminated with dark glue. It can not be cut! Glass can be engraved but not cut.
Venue
Dim Sum Labs is a hacker space. Asides from the laser cutter, there are 3D printers, manual mills, a manual lathe, various power tools, and various tools for prototyping electronics. The CNC mill needs fixing.
Day • Time • Fee
Day: Saturday, 20 March 2021
Address: Dim Sum Labs, 100 Jervois Street, 14th Floor, Sheung Wan, Hong Kong
Timing: 14:00 – 18:00
Fee: 250 HKD for venue rental and laser cutter maintenance