Tonight we had the presentation of 2 new products that will be available on the market soon.
RedBear Duo board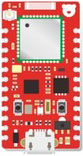 The Duo is a thumb-size development board designed to simplify the process of building Internet of Things (IoT) products. The Duo provides everything you need—Wi-Fi, BLE and a powerful Cloud backend, all in a compact form factor that makes it ideal for your first prototype, a finished product, and everything in between.
The Duo contains both Wi-Fi and BLE capabilities. This means your project can communicate locally with Bluetooth enabled devices and can also connect to your local Wi-Fi network to interact with anything else on the web. The Duo is built around the Broadcom BCM43438, a Wi-Fi 802.11b/g/n plus Bluetooth 4.1 (Dual Mode) combined chipset. They share the same 2.4GHz antenna and can run at the same time. This gives you the flexibility to utilize the most suitable wireless technology(s) for your project.
Contact info:
Blinky Shield
Scotty Allen came from Shenzhen to present his latest product.It is a fun little soldering kit, an Arduino shield with 70 addressable RGB LEDs. It's through hole mount, so not too painful to solder.
Contact info: