Since we brought back Maker Monday in February this year, cultivating creative aspirations amongst members and interests in fellow travelers who manage to find us on Meetups – a lot has been going on since. Hopefully, the objective is to showcase our works at the weekly Tuesday HackJam. Members at the labs work mostly during their free time and so here's a chronicle of what Dim Sum Labs has been up to:
Home Automation Systems/IoT Devices
Takayuki Okaki is working on home automation systems such as: The Door Alert System that detects whether the door has been opened/closed via e-mail notification. Currently, Taka is looking for collaboration and his next project is the: The Laundry Alert System, that notifies when your laundry is done!
                     Door Alert Systems and e-mail notifications.
Laser Cutter
With the arrival of the new laser cutter, members got busy cutting wood for boxes, engravings and putting it to good use! Here is a fine example of Mathis's notebook cover made with precision cuts. The design for the notebook can be downloaded from: https://www.thingiverse.com/thing:12707.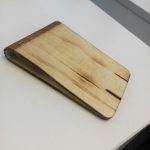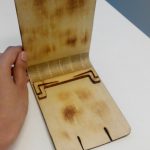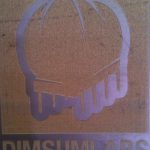 Laser Cut Notebook Cover                 Examples of Laser Etching on Laptop
3D Scanning
Nicolas enjoys photography and his way of capturing souvenirs during his travels is by scanning landmarks and objects in museums and then rendering them into STL 3D printable file format. His technique involves multiple scans of the base of the object, side-view scans and then finally top-view scans. Some of these techniques are used in effects companies (for creating Computer Generated faces or action figure prototypes), usually at a click of button using multiple pre-set cameras. Nicolas often gets annoyed by onlookers who manage to get into the photos! Some of his works can be seen on: https://sketchfab.com/3d-scan.hk.
Hacks
As Maker Mondays took off, we had people interested in all sorts of devices. One of which led to this cool hack: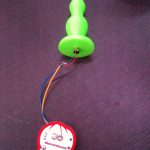 The objective was to test a 3D printed object using a simple smart phone vibrator. Vibrating motors are especially useful not just for you know what! But for UX, such as an awesome Go-Karting gaming app on your phone that vibrates as you bump into other Karts and boundaries. Or seats in some cinemas, where vibrations add an extra sensory 4D appeal whilst enjoying your movie experiences. We tried a Play Station vibrator to dizzying results!
Remember Maker Monday is not just Mondays, it's about making everyday! More to come!