Date/Time: Weds 13 Feb 19:00 – 21:00
In February, Dim Sum Labs is proud to host the Creative Coding Circle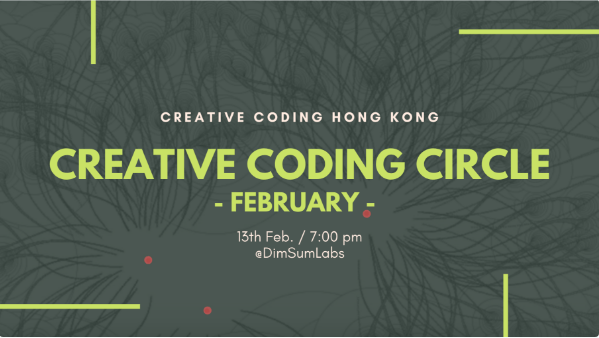 ++++++++++++++++++++++++++++++++++
? What's the Creative Coding Circle?
++++++++++++++++++++++++++++++++++
It's an open conversation between artists, makers, designers, coders, performers, learners and anyone interested in the use of computing skills for artistic/personal expression. The event is free and open to all, regardless of age, origin, gender or experience. Beginners and first-timers should feel especially welcome! You don't have to be a coder yourself!
+++++++++++++++++++++++
? What should I expect?
+++++++++++++++++++++++
This time we'll all play a little bit learning p5.js [https://p5js.org]. To make it more interesting, we'll be able to do some live-coding in a multi-user environment using Joukkue (by aBe Pazos). This way, we'll have a large canvas on a web browser where everyone can write simple lines of code and see their "drawings" interact with each other. Bring your computer if you want to join the fun!
There will be plenty of time for people to present something if they want to, a project they are working on, or maybe something interesting they have found on the web. All related topics are welcome, from net art to computational design and interactive installations all the way to wearable electronics… It's a whole evening packed with fun, inspiration and human connection.
Anybody can contribute, this is why it's called a CIRCLE. We're looking forward to meeting you all!
++++++++
? Note:
++++++++
This event is NOT just for coders! If you like art and/or technology, you will certainly enjoy yourself, and perhaps even learn something!
Sign up on the Creative Coding Meetup Event
https://www.meetup.com/Creative-Coding-Hong-Kong/events/258551370/